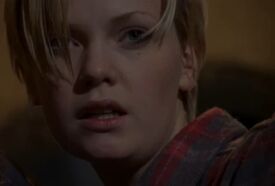 Tracy Lasker was a villainous female werewolf from Poltergeist:  the Legacy, appearing in Season Two's "Rough Beast."
As a child, Tracy and her mother, Anne, were attacked by a werewolf-like creature known as a lupan. Anne killed the beast, who was revealed as Tracy's father, and since then, Tracy has been traumatized and has been making regular visits to Rachel Corrigan. Meanwhile, an actual werewolf is prowling around at night, and with what they know about Tracy, the Legacy was convinced that Tracy's father had somehow come back after Anne and Tracy. Later in the episode, however, Tracy is revealed as the werewolf when she climbed through her bedroom window and reverted to her human form, establishing Tracy's heel turn. On the following night, Rachel visited Tracy, unaware of the truth about her, and watched over her while the rest of the group kept watch from outside. To Rachel's shock, Tracy transformed into a werewolf and went after Rachel, who attempted to talk her down. After Anne saved Tracy from being killed by Alex, Tracy leapt out the window, but she ended up killed by Nick. 
Community content is available under
CC-BY-SA
unless otherwise noted.