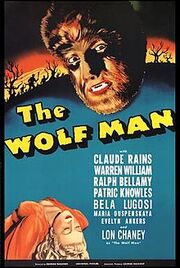 The Wolf Man (1941) is about a practical man who, while returning to his homeland, is attacked by a creature of folklore. While infected with a horrific disease, his disciplined mind tells him he cannot possibly exist.[1]
Storyline
Edit
Larry Talbot returns to the family estate in Wales after having spent 18 years in the United States. He's now the heir to the family estate after the death of his older brother John. His father, Sir John Talbot, welcomes him back warmly and he soon settles into local life. Larry takes an interest in a local girl, Gwen Conliffe, but while walking her and her friend home late one evening he is bitten by a 'wolf'. Fables and myths abound about werewolves, beasts that are half-man and half-wolf. For Larry, those myths may be all too real as he becomes a werewolf himself. [2]
1941's The Wolf Man is one of the most famous and influencial werewolf films ever made. It tells the tale of Larry Talbot, played by Lon Chaney Jr., falling victim to the werewolf curse. The film presentented the idea that only silver can kill a werewolf, an idea that has become all but canonical in fiction.
References
Edit
↑ IMDb, The Wolf Man Plot, by Carl Schultz
↑ IMDb, The Wolf Man Plot, by garykmcd