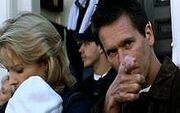 Sean Devine is the antagonist of the Fan-Fiction series called Night Shadows.
He is a werewolf, who is bitten by werewolves. He is the father of Haley Graham, a shapeshifter.  
He is played by Kevin Bacon.
Character profile
Edit
Sean is a shapeshifter and werewolf who morphs into a wolf. He is Haley's father. He is the member of the werewolves.