Mr. Finster is a villainous werewolf from Garfield and Friends, appearing in the episode, "Count Lasagna."
Mr. Finster is Jon Arbuckle's boss, and the cartoon had Jon presenting a comic titled, Count Lasagna, which was about Count Dracula's pet cat. Despite Finster's protests, Jon (with Garfield and Odie present) pitched the comic, which was told throughout the cartoon, with Garfield in the role of Count Lasagna.
After the story ends, Finster rejected the comic, stating that the concept of a cat prowling around at night for Italian food was farfetched. As a result of Finster's rejection, a dejected Jon to left his office with Garfield and Odie.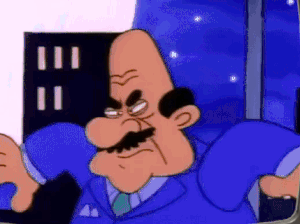 After Jon, Odie, and Garfield left, Finster continued voicing his disbelief over the comic's concept, while looking at the full moon from outside the window. Finster turned heel when he suddenly transformed into a wolfman, officially revealing that his earlier reason for being in a rush to get home was due to the fact that he was a werewolf, with the trio's departure allowing Finster's heel persona to emerge. Following his surprise heel turn, the evil Finster remarked that wolfmen were more believable than vampires, after which he howled at the moon and continued laughing evilly at episode's end.
Community content is available under
CC-BY-SA
unless otherwise noted.